Over the river and through the city—to the Capitol they go
Southwest class of 2025 takes climate change data to state legislators
SAINT PAUL—Lakers packed their bags Tuesday morning to head east across the river to the Capitol to present data to their state legislators regarding the climate change crisis. The project for math escalated from class to congress when ninth graders were able to work with the data directly.
Stamatka Platikanova's math students expressed an interest in doing something with the data points they collected for the class project. 

Although she received the news of her newfound responsibility just hours before the event, Kate Anderson '25 accepted her responsibility as the representative of Southwest's presentations regarding Climate Change, Environmental Sustainability and Clean Energy Acts. She focused on what it means to be a 15-year-old in today's society and all the abnormalities that Gen Z as a whole has learned to see as ordinary.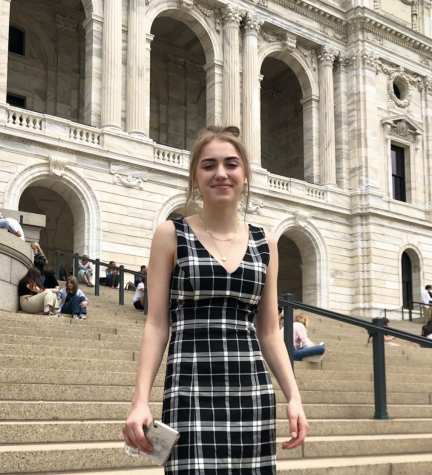 Anderson composed a speech regarding concerns of gun violence, gender inequality, racism, and Covid 19.  Along with drawing attention to climate change, emphasized school shooting drills and missing weeks of education due to the Coronavirus and encouraged the legislature to help students "find our voices."
Concluding the opening statement with thanking Ms. Platikanova, the State Senate, and Minnesota House of Representatives—Kate Anderson set an incredible example of what young minds can do and, along with her classmates, set a high bar for the incoming class of freshmen next fall. 
The ninth grade Team Harriet's data proved how rapidly climate change was increasing with things such as Co2 emissions, average temperatures changing, severity of storms, and so much more!

"I think my favorite part of the trip was seeing students put their work into action and use it authentically and for change," English teacher Drayton Cousins shared with pride. 
After the speeches to the elected officials there was a quick lunch break before the students concluded their adventure by taking a personal tour of the tunnels located at the Saint Paul capitol.