Southwest Winter Spirit Week 2022 Announced
In celebration of blast week, winter break, and the end of 2022, the Southwest student council is hosting a winter spirit week, featuring five different themes throughout the final school week of the calendar year.
The week begins with Mismatch Monday where you can expect to see a mashup of many different clothing styles. All you have to do is pick some clothes that don't match each other, like a tie on top, and pajama pants on the bottom.
On Twin Tuesday, you can match outfits with a friend or dress like your favorite teacher. Winter Wonderland Wednesday is more simple and is a full whiteout day. Students should match the snow and wear all white from top to bottom.
Thursday brings another "versus" day. Unlike the summer theme of bikers vs surfers, we have a cozier theme this time. Students can choose whether to dress in pajamas or formal wear.
The final day of the week is Ugly Sweater or Holla Day, celebrated on Friday. Put on your ugliest holiday sweater or dress to celebrate any winter holiday.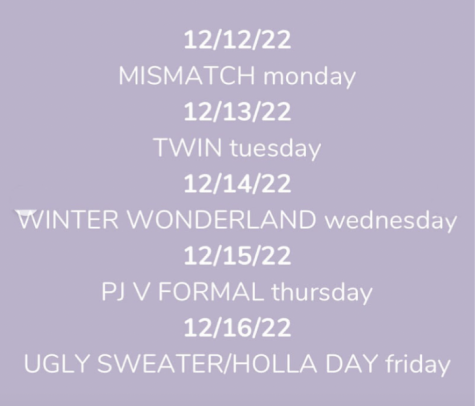 Set a reminder for the mornings and help us show our school spirit this week!