Southwest Presents Spring Musical, "Mamma Mia!"
Southwest High School's spring musical "Mamma Mia!" is finally here, and it's one show you won't want to miss. The vibrant and lively production is based on the famous Broadway musical of the same name, which features hit songs by the Swedish pop group ABBA. You have four more chances to catch the musical this week.
The plot of the musical centers on a young woman, Sophie, played by Sally Crabtree, '24.  It's set on a Greek island and is also majorly about Sophie's mother Donna, played by Ava Burns, '23. Sophie is determined to identify her father as her wedding comes close. Without notifying her mother, she extends invitations to three potential suitors from her mother's past. This causes amusing misunderstandings and touching reunions. "I love the movie, Mamma Mia so I had to go to the musical and it did not disappoint," Coco Hoch, '24, said.
The musical is set to a backdrop of exclusively ABBA songs. If you enjoy their music then you would definitely have a fun time at the Musical. Even if you're not familiar with ABBA songs, the catchy tunes and lively choreography will keep you interested."The student's are very talented, I was amazed at their singing abilities and I think everyone should go see Mamma Mia, especially if you're a fan of ABBA," Bella Mathys '24 said.
It's impressive how much went into the production of, "Mamma Mia!" "Over 50 student's have been working on the production since January,"According to a Backstage Tech worker, Charlie Quick, '25. Rehearsals took place for the actors in the dance studio and as for the other student's behind the scenes, they worked on building a set and designing costumes for the musical. "The amount of work the tech and crew had to do for the production was a lot, the actors also worked really hard on their choreography, I'm really impressed with how it came out in the end," Quick said.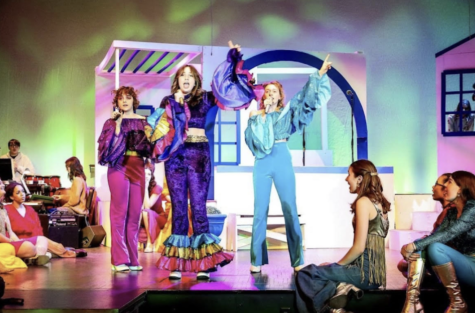 Need another reason to attend? Seeing, "Mamma Mia!" is a chance to promote Southwest's art programs. It's essential to show our support for the talented students at Southwest who dedicate themselves to these programs. Seeing the musical will also encourage our school's administrators to continue sponsoring art programs in the future when shown that students are passionate about the arts. "Even If you aren't interested in the story, come to support your peers. The actors, tech, and costume designers have put so much work into the production of Mamma Mia and is definitely worth your time, everyone involved would appreciate it if you came," Quick said.
Purchase your tickets right away to catch a show this week for a night of music and fun. "Mamma Mia!" is not to be missed. It will surely be a memorable moment of the school year because of its outstanding choreography, catchy ABBA soundtrack, and exciting plot. Support your peers and Southwest's art programs by attending the musical!