Southwest Gymnastics' Historic Season Ending
The 2022-23 season was a historic one for Southwest gymnastics, scoring the highest score in the last five years of 130.825. This score came at the Minneapolis City Conference Meet where the Lakers defeated Washburn, South/Roosevelt, and Edison/Henry/North by over six points! This meet had so many highlights: Keira Murphy ('24) and Ruby Browne ('23) tied for the vault title with an 8.575, and Ada Sheposh ('23) tied for third place with an 8.425; Keira Murphy took the bars title with an 8.1, Sheposh received second place with a 7.975; Audrey Pyle ('26) took second on the balance beam with an. 8.5, and Sheposh and Sheposh tied for third place with an 8.375; Keira won the floor exercise with a 9.2, and Sheposh placed second with an 8.75; the all around title was taken by Murphy with a 34.25, and Sheposh took second with a score of 33.525.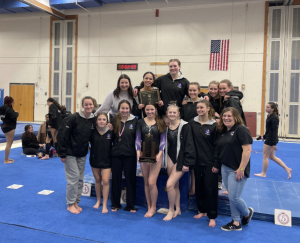 The JV team defended their Minneapolis City Conference title with their season high score of 118.95. They had so many highlights after beating Washburn, and Edison/Henry/North by over  35 points! These highlights were: a Southwest sweep on the vault with Mina Guimaraes ('26) taking the title with a huge 8.6, Karli Taney ('23) placing second with an 8.25, and Vanessa Harris ('23) taking third with a. 8.2; another Southwest sweep on the uneven bars had Cate Poindexter ('24) in first with a 7.4, Mina in second with a 6.9, and Ruby in third with a 6.3; Frances Glenn ('23) took the balance beam title with a 7.7, and Ruby took second with a 7.5; the last Southwest sweep was on the floor exercise with Frances Glenn in first with an 8.0, Karli in second with a 7.8, and Vanessa in third with a 7.75; Mina Guimaraes took the all around title with a 29.4, and Karli placed second with a 28.65. What a great way to wrap up the outstanding JV season!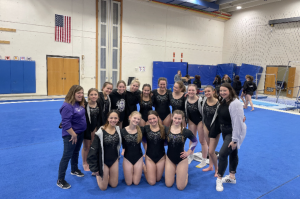 The Southwest gymnastics varsity team ended their season on February 18 at the section 6AA meet, where they placed 4th of nine teams with a score of 128.55. Some highlights of the competition included: Keira taking 7th in the all around with a 34.15, 8th on the floor with an 8.975, and 10th on the balance beam with an 8.5. Keira and Audrey received  all section awards on the floor exercise, and Ada got an all section honorable mention on the uneven bars. Cate, Ellie Munnich ('26), and Mina received all section awards for academics; Keira, Frances, Audrey, Vanessa, Loretta Shea ('25), Sasha London ('24), and Ruby all received all section honorable mentions for academics. What an amazing end to this historic season for Southwest Gymnastics!