MJ saves the day
How the long term sub has impacted the Southwest community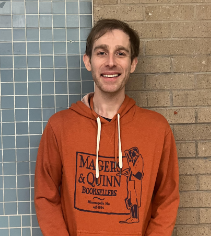 Mr Johnson, or as you may know him, MJ has been a part of the Southwest community for 15 years as a long term sub and teacher. From subbing for teachers over the years to teaching his own sophomore English class, Mr. Johnson has many stories to share from his years at Southwest. "I have taught guitar and songwriting and I loved that, but my favorite would have to be sophomore English," Mr Johnson said. His former students wouldn't be surprised to learn that this is his favorite subject because of his love for reading and discussing books."We got to express the thoughts and ideas of the books and stories we read to bring life to them rather than just reading," Charlie Quick '25 said.
 "I've always enjoyed discussing books with other people like a book club, and I guess English class is kind of like that," Mr. Johnson said. His love for English doesn't stop there, one night a week he works at the bookstore, "Magers and Quinn."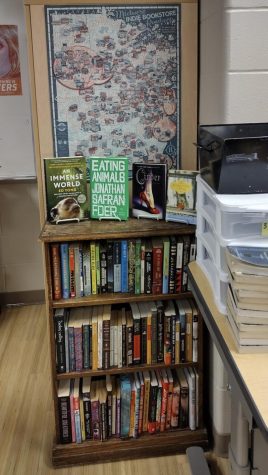 Mr. Johnson is also involved with extracurriculars at Southwest. He is the Green Team advisor and previously the advisor for the Animal Rights Club for 7 years. Although he participates in a variety of extracurriculars at Southwest, his favorite is the Songwriting club, which he started and continues to hold on Wednesdays after school.
When asked his favorite memory of teaching at Southwest, Mr. Johnson replied with a compassionate story involving ducks.  Almost every year there is a female duck that lays eggs in the courtyard, which leaves the baby ducks stranded since they can't fly. "A group of students and I got some cardboard and we led the mama duck through the courtyard into the hallways, down the stairs, as the babies followed the mom out the door of southwest. We then guide them to Lake Harriet making sure that they don't fall or have anything go wrong, then we walk them to the edge of the lake where they jump in."
Outside of teaching he continues to enjoy songwriting and playing instruments, as well as producing his own music. "I like to play and write music at every moment I have," he said. Outside of his personal music writing he has taught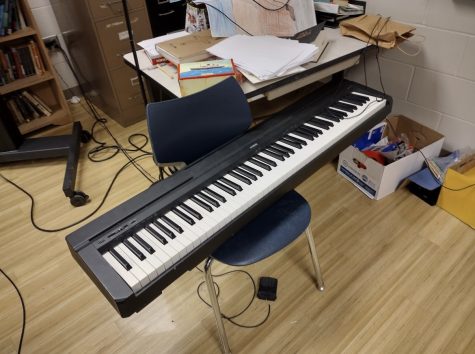 songwriting and guitar at Southwest in the past. As a long term sub for the guitar class, he brought a lot of personality and joy to the classroom. "He was so much fun and he talked about using music as a form of making new friendships and being a community," Berit Schiltz '24 said.
Mr. Johnson shows how learning can be enjoyable. His approach to teaching is very humanistic, it's clear that he wants his students to appreciate learning and expand their knowledge. "In times like these I think it's really important to see students as humans and not just like pupils, I try to find material that the students will genuinely enjoy," Mr. Johnson said.
A teacher like Mr. Johnson is hard to come by. Even if he is just filling in for a class, he is committed and passionate about teaching. When asked about his future plans on staying at Southwest he responded with, "It's always been kind of me balancing my creative pursuits in life with education and trying to find ways I can connect them, so I plan on staying here for as long as I feel like it, which could be anytime." Southwest students should feel fortunate if they ever have Mr Johnson as their teacher!