Always an Angel, Never a God: boygenius Debuts With the record
In 2018, singer-songwriters Julien Baker, Lucy Dacus, and Phoebe Bridgers, joined forces to create the supergroup boygenius. The trio had been in the same music sphere for years, with Dacus and Bridgers opening for Baker in 2016. Their self-titled EP, which received worldwide critical acclaim, was released in October 2018. In January of 2023, it was announced that the group would be returning with the release of their debut album called the record.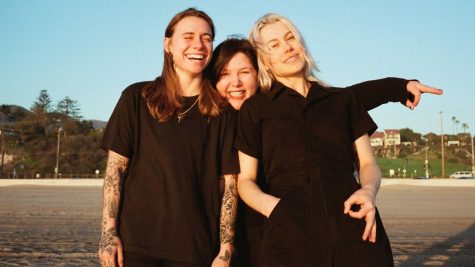 The album begins with simple harmonies on "Without You Without Them." This opener sets the mood for the album, reflecting on the past and looking toward the future. It then continues into the three lead singles: "$20", "Emily I'm Sorry", and "True Blue." These songs allow each band member to shine through. On "$20," a disorienting but pleasant electric guitar accompanies Baker's lyrics of sabotaging behavior. The song concludes with pained shrieks and wails, yelling "I know you have twenty dollars!" eventually fading to black. "Emily I'm Sorry" has a much softer tone, but is just as heartbreaking. On this track, Bridgers croons to an ex-lover, promising that she'll "get a real job" if they can ever forgive her. Finally, there is "True Blue." Among gentle, acoustic strums, Dacus vocalizes that "it feels so good to be known so well."
Following are 7 tracks dealing with a variety of themes such as lost love, friendship, and toxic relationships. The album highlight, "Not Strong Enough," tackles feelings of insecurities and god complexes caused by self-hatred. The track "Satanist," written by Baker, discusses satanism, and whether in this society, would her closest friends join her. Finally, "Anti-Curse" is about a near-death experience and the reaction after. 
Concluding the album is "Letter To An Old Poet," a heartbreaking, melancholic track, in which the women reflect on a past relationship. They sing of an ex-lover's misgivings and mistakes, with the sorrowful lyric "You're not special, you're evil/You don't get to tell me to calm down." This song is a full circle moment, as it is reminiscent of "Me & My Dog," a track on their first EP.
Perhaps the most amazing thing about boygenius is their ability to uplift each other. There is no leader. There is no frontwoman. Listeners can hear a gorgeous blend of the women's solo work on one song. It's the reason the band was created. The members stated that they were tired of unfair comparisons and Dacus has said she hopes "people see the three of (them) and know there isn't competition."
the record is a spectacular beginning for the group, and one can only hope that they will continue to expand the boygenius discography. 
Favorite Song: "Anti-Curse" or "Not Strong Enough"
Favorite Lyric: "But it feels good to be known so well/I can't hide from you like I hide from myself/I remember who I am when I'm with you/Your love is tough, your love is tried and true blue" ("True Blue")