MN Orchestra performs at SWHS
Professionals perform at SW 3/24 ahead of student concert at Orchestra Hall 4/25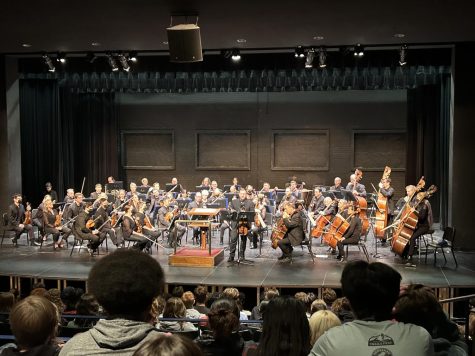 On Friday, March 24, students at Southwest High School were treated to a two hour concert of Schumman's Symphony No.3, performed by none other than Minneapolis's own Minnesota Orchestra. Students were taken through the piece, and told about the composer's final piece, which premiered over 150 years ago, in 1851. Many students were impressed by the performance, the importance of orchestra and how it can benefit students and young adults.
"
I think orchestra is for everyone
— Reid Wixson
This concert was arranged by Southwest's band and orchestra teacher and conductor, Reid Wixson, who has been with Southwest since 2014. Prior to coming to Southwest, Wixson played clarinet in an orchestra during his college years, and he continues to guest conduct for the Greater Twin Cities Youth Symphony and the Minnesota Youth Symphony Orchestras. 
This year marks the first time in nine years that the orchestra has been able to visit Southwest, as the orchestra has a performance and travel schedule so tight that performance pieces are planned three years in advance, and conductors and soloists are booked two years out. 
When asked why attending an orchestra performance was so important, Wixson said, "I think orchestra is for everyone." Speaking to its inclusive nature, Wixson went on to share about it as a valuable opportunity because of the skill the individual orchestra members are able to play at.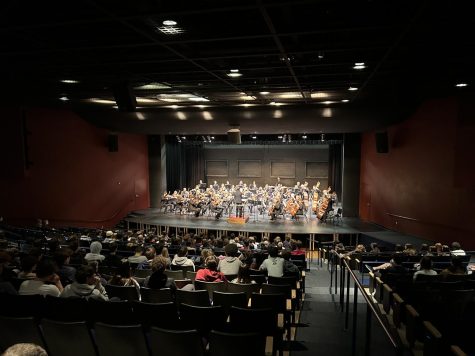 As far as what audiences can expect to see when they continue attending orchestra concerts, Wixson called back to the skill and professionalism of the orchestra: "I think the power of seeing the absolute best players on their instrument playing live is really important for us to see what's possible. So, for the players at our school who are in the orchestra and the band, that's the gold standard, right?" 
"All these musicians went to tech schools, they learned how to play their instruments at a very, very high level and they put in an enormous amount of work and are highly regimented in their practice routines, and that is super clear. Their technique doesn't get in the way of their expression. They can express what the music is saying to them; technique is not a barrier. And then they can all do it unified as an orchestra," Wixson said about the skill and dedication it takes to not only be a part of an orchestra, but to conduct it as well. 
Eva White ('23), a trumpet player for Southwest's wind ensemble, said she was "very inspired to see how they work together and the stories behind their pieces."
"
it's a world that people think of as exclusive and top tier, but is actually historically inclusive. When more people see it, it becomes more accessible…
— Eva White ('23)
All of the students interviewed that were able to attend the orchestra performance at Southwest said they would recommend going to the next concert. The opportunities to see orchestras play in high school are a uniquely valuable experience. 
"I think orchestra concerts can reach people in a very different way, they can inspire people, they can pass on the culture of whatever the composer is conveying; you can leave inspired," Wixson said, returning to the passionate nature of the musical performance and its traditional role in culture. 
White thought it was important that young people keep attending concerts because "it's a world that people think of as exclusive and top tier, but is actually historically inclusive. When more people see it, it becomes more accessible, especially when they're just playing at a random high school."
Attending orchestra concerts and live performances is a tradition that has historically made music more accessible and therefore has allowed music to influence culture and vice versa. The more young people that attend professional concerts, the more chance this tradition has of staying alive and persevering through cultural shifts and divides. 
As for why students who aren't involved with music should still be attending orchestra concerts, Wixson turns to the world of professionalism and collaboration: "I think they can see what super high level professionals do. Like when you are watching tv and you're watching the broadcast team, you can see what a high level broadcaster is doing. You can listen to the radio and hear high level broadcasting from a person on the radio. Most jobs that students would see, it's not on display for everybody. I'm not sure what your parents do for a living, but chances are there's not an audience watching them. I think it's really inspiring. This is what hard work looks like."
One upcoming opportunity to attend a concert like this is to support the Southwest Performing Arts department at their Orchestra Hall concert on April 25, where the wind ensemble, choir, guitar orchestra, and ensemble orchestra will be performing. In addition to the upcoming Southwest concerts, there are many opportunities for students to attend St. Paul Chamber Orchestra and Minnesota Orchestra Concerts at no cost. 
Leave a Comment