Choir Takes on Cali
There are no words to encompass the excitement and joy that all 69 of the students and chaperones experienced during our trip to San Diego, California. A much anticipated trip (mainly due to covid) that once felt so far away had finally brought us to the Minneapolis Saint Paul airport in our matching airport fits putting nothing but smiles on every student's face. Bryan Fisher (choir teacher) had worked tirelessly to put this trip together and make memories that will surely last a lifetime. From a crazy hair contest at our hotel to the San Diego Safari Park each activity was thoughtfully planned in order to explore San Diego as a group.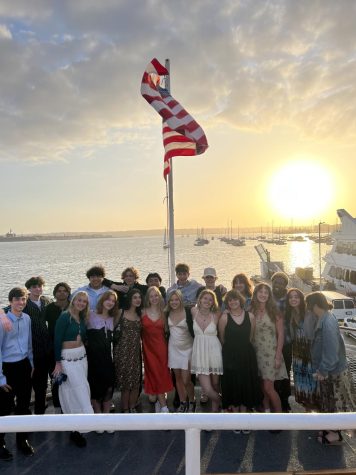 One thing you'll need to know about Mr. Fisher, his main goal in and outside of the classroom is for each and every person to know they are accepted, loved, and free to be whomever they are.Single-handedly Mr. Fisher has created the most welcoming and safe place that I am proud to be a part of. Due to Mr. Fisher's welcoming aura and the energy that each student brought with them, the trip was that much more special because every person got to be around people who were unconditionally, happily, and unapologetically themselves.
When we flew into Los Angeles we were greeted by our Gateway tour guide Lin (a long time friend of Mr. Fisher) and were escorted to our buses. We drove to San Diego and ate at Coyote Cafe and then got settled into our hotel quickly as many people wanted to explore the pool and hot tub. The first few days of our trip were not so warm (highs of 59 degrees and lows of 40 degrees) but that didn't stop a single Minnesotan teenager from going into the pool. The next morning we enjoyed a delicious hotel breakfast and went straight to San Diego State University where we had a clinic with Arian Khaefi, their choral director. After learning new techniques and getting a taste of college choir, we went to Covenant Living, a retirement home where we performed. We had such vulnerable moments being able to talk to these residents. One resident said "keep spreading your joy" and "I could see the light in all your eyes as you sang." Their tender and sweet comments made many of us tear up and really appreciate the group of people we take for granted at school. As we saw each other in a new light, we were able to realize how lucky we are. 
One moment I'll never forget was the Friday morning at 7:30 am when the fire alarm went off while we were sleeping. My roommate and I freaked out not knowing what to grab as we sprinted to the door. People started to trickle out of their rooms while still in their pajamas, looking disheveled because their shower or sleep was interrupted. There was no fire, just an accidental fire alarm, but oh boy did we all laugh seeing everyone fresh out of their slumber and in the bright San Diego sun. After recuperating, we left for our beach day at Mission Beach. Students surfed, swam, played volleyball, spikeball, rode roller coasters, walked along the beach, and enjoyed the sun (even though the high was 65 degrees that did not stop our fun). After an eventful day at the beach we all got dolled up and went to dance and eat dinner on the boat. Our evening consisted of dining, laughing, dancing, and taking pictures on the boat, which was arguably the most memorable night of the trip.
Although there are only a few memories in this article, this was so much more than activities and performances. This trip was an incredible bonding experience, and made me live in the moment, appreciating how lucky I am to have found this community of juniors and seniors. As we debriefed about the trip the next Monday back in our choir room, many students expressed how safe they felt to be utterly and completely themselves, and how happy they were to become closer with new friends. Mr. Fisher said something along the lines of "there will never be the same group of people in a choir again." This made everyone realize how lucky they were and to appreciate the people they have surrounded themselves with. At the end of the day everyone was celebrated for being themselves, and we all have Mr. Fisher to thank for giving us this special space. Thank you, Mr. Fisher.