Laker visits from White House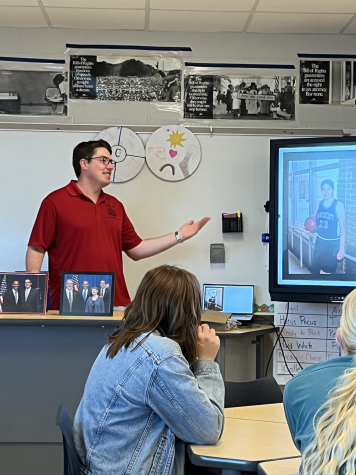 John Pratt, a 2006 Southwest graduate, visited his alma mater on Friday, May 5 to talk about his job working for the Biden administration at the White House. He made it clear he didn't speak for any of the political entities he worked for, but came as an individual and an alumnus to share about his job. 
After his graduation from Southwest in 2006, Pratt attended the University of Wisconsin Madison, majoring in political science. It was in 2012 that Pratt was offered an internship at the White House. Pratt now works in the Office of Scheduling and Advance which is responsible for scheduling, planning, and executing the president's visits around both the country and the world. On President Biden's recent trip to Ireland, Pratt was in charge of guiding Biden through the event. Pratt helps to plan every minute detail, from deciding with whom the president speaks, to whether he is seated or standing. 
This visit was arranged by Kaisja Robinson ('23) while he was visiting her and her family while in the area. When asked how she and John knew each other, she shared about the time he spent as her babysitter, "John Pratt was best friends with my cousin who went to Southwest, so he lived in the area and babysat me and my three brothers when he was a teenager."
Robinson said she thought it would be a fun visit because of John's familiarity with the school as well as its staff, as well as his comfortability in front of people and students. She also thought it would be an great presentation for her class: "I also thought it would be interesting to hear his work side of him, because we hear a lot of his crazy stories about his work and stuff but not what he actually does."
"
"This was a kid who grew up in the neighborhood and went to school here and you can do that too. If you want to work in the White House, and you want to be in the CIA, there's a whole realm of things you could do. I think when former Southwest students do anything at a high level that it just becomes a model for every kid at Southwest.
— Caroline Hooper
While talking to the class, David McMayer, a current math teacher at Southwest as well as John's former math teacher, entered to see what John had been up to. It was at this point that John shared a story about his struggle with math and how after he had looked at his neighbor's answers during his math exam, McMayer had taught him how to ask for help when he was struggling. When asked about his feelings when he heard that Pratt had taken McMayer's advice with him through his career, McMayer said, "his story about losing his job right at the moment the election was decided in 2016, he was like 'Oh. I guess I don't have a job anymore. What do I  have to do?' Going through that as a young adult–moving back in with his parents and then trying to figure out 'where do I go from here?', to the point that he's a known entity in Washington is amazing, to be able to persevere through that adversity."
Caroline Hooper, Southwest's AP Government teacher, was more than eager to welcome him into her classroom and let her students hear about their possible future for themselves. While she never taught Pratt during his time at Southwest, she did share that she's had a number of other students end up in similar careers.
"I have a student right now that's on the White House staff, and a former student who's on the staff for Senator Tina Smith out in Washington D.C. I've had other students in those positions. I have a former student who's a staffer at the Minnesota Legislature, and I'm trying to get him to come in, but this is a busy time of year for him. I've definitely had a number of students that have gone into politics," Hooper said.
As for what an alumni visit from someone like Pratt can mean for her current students, Hooper shares the following sentiment: "This was a kid who grew up in the neighborhood and went to school here and you can do that too. If you want to work in the White House, and you want to be in the CIA, there's a whole realm of things you could do. I think when former Southwest students do anything at a high level that it just becomes a model for every kid at Southwest."