The return of Yo La Tengo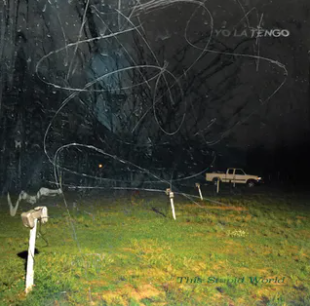 It's been three years since We Have Amnesia Sometimes and fans worldwide have missed the sweet melodies of indie rock band Yo La Tengo. Then came the beautiful day of February 10th when wishes were granted and This Stupid World was born. The 17th studio album features nine songs, all recorded sometime between 2020 and 2022 in the heart of the pandemic, and is perhaps the liveliest of their releases yet. It perfectly combines past sounds with hints of something new as the band emerges into yet another new era of music-making. 
In "Tonight's Episode" Ira Kaplan's soft vocals contrast perfectly with the steely drone of the guitars, while "Aselestine" shows off percussionist Georgia Hubley's dreamy voice in a reimagined folk tune. The depth of the album ranges from aspects of industrial, shoegaze, and classic indie rock, similar to 1995 album Electr-o-pura. They open up with "Sinatra Drive Breakdown", an ode to the infamous boulevard named after Old Blue Eyes in their hometown Hoboken, which features a classic Kaplan guitar takeover. Known for going off on rampant ten-minute guitar solos during live performances, you can practically hear how much fun he's having as the rusted chords lash out beneath Hubley and bassist James McNew's vocals. 
It's followed by one of my favorite songs on the album, "Fallout", in which Kaplan voices disgust over his own existence and a yearning for escape. Backed by McNew's distorted bassline and a My Bloody Valentine, Kevin Shields-esque droning, he sings, "Every day, it hurts to look/I'd turn away if I only could/Wanna fall out of time". 
Moods shift as "Apology Letter" appears later on in the lineup, a soft melancholy tune on the ability to overcome your ego and learn to apologize. Yo La Tengo pinpoints the struggle to keep going in a world of darkness but gives listeners hope for what the future holds. In the title track "This Stupid World" Kaplan cries out, "This stupid world/It's killing me/This stupid world/Is all we have". 
Almost a month after the album's release Yo La Tengo appeared at First Avenue in Minneapolis for the twelfth leg of their spring 2023 tour, and I can truthfully say it is a wild album to hear performed live. They may not be shoegaze but we still love them.