The Southwest robotics season this year
As the school year is wrapping up, it's nice to look back and reflect. The students at Southwest have done a lot this year, and one of the highlights is the Southwest Robotics Team, Ultraviolet! This season they built a custom robot with a team almost double last year's size and took it to compete at regionals.
This year's competition, called Charged Up, was a challenge to build a robot that could maneuver objects and balance itself, needing to be able to run on both code alone and be controlled by a driver. Ultraviolet built their robot, named Nessie, from the ground up to compete in two of these regional competitions.

First, the team competed at Northern Lights in Duluth, where they won the Autonomous Award for Innovations in Controls. Along with that, Outreach Lead Haley Durkee ('25) and Assistant Captain Mason Vogt ('25) were nominated for the Dean's List award, and Durkee went on to become a finalist.
In between competitions, the team worked to make the robot even better, improving things like its intake and arm. The team went on to compete at North Star in Lacrosse, where they won the Imagery Award.
When talking about this year's season, member Charlie Pelszynski ('25) says, "We built one of the best robots that our team has ever made."
With the season over, the robotics team here at Southwest is still working on its own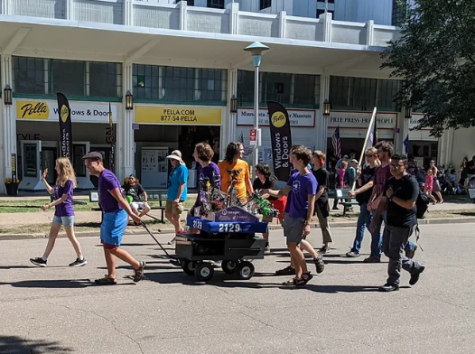 projects, like designing an outreach robot and creating individually. 
Outreach Lead Durkee says, "From the beginning to the end of the robotics season, we've seen so much improvement in both our robot and our team as a whole. Nessie underwent many iterations and improvements, and the community centered around this robot has thrived as well. Now that the season is over, we are still going strong and can't wait to approach the challenge next year."
Ultraviolet is ready for their next challenge, Crescendo, in the '23–24 year, and the team welcomes you to join!