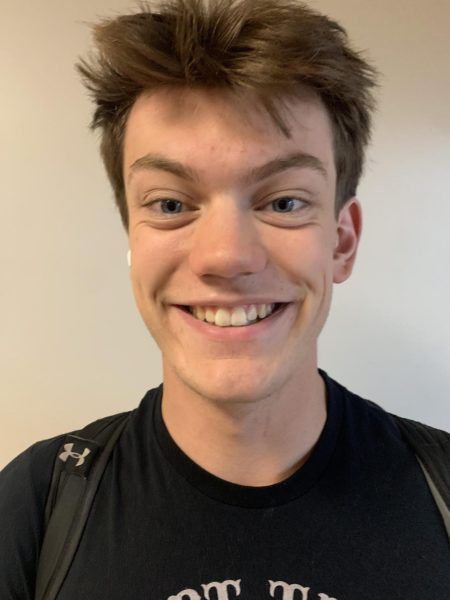 "
I'm here, I'm back, and I'm stronger than I was last year.
— Logan Gunaca
Logan Gunaca ('24) has been playing football for Southwest since he was in eighth grade. Those five years have made a big difference in his skill and confidence. Although he's had a few setbacks along the way, he's confident about the remainder of this season. 
After asking Gunaca how playing football has affected his life he replied, "It's been phenomenal, five years, you know I played in eighth grade and it's been great every single year." His favorite part about playing on the team are the social and team aspects of it. "Great team environment, won some, lost some, but I prefer to remember the games we won, and team dinners are also always a hit." 
Throughout high school, Gunaca has developed a leadership role on the team. He was named a team captain this year. 
"Setting a good example, keeping the team happy, and trying to maintain a positive attitude are the main responsibilities," Gunaca said of his biggest responsibilities related to being a captain. These morals have helped Gunaca achieve his goal of being a great leader on the team.
"
To overcome a significant injury takes a lot of willpower.
— Josh Zocha
Gunaca is recovering from a torn ACL that has set him back a lot. Over the summer he wasn't able to do any college recruiting due to the injury. 
"It wasn't ideal, but Lifetime Fitness and Tria were the biggest factors in my recovery. The time spent at Lifetime doing physical therapy helped best." 
The Navigator talked to his coach, Robert French, about what has made him successful at recovering from his injury. 
"Me and Logan have a tight relationship, he knew a lot about his body before the surgery, and that has helped him recover. He has put in the extra work and followed his doctor and his own regiment," French said. 
Josh Zocha, the head football coach, had this to say when asked about Gunaca's comeback: "He's been on the team for 5 years and been on varsity since he was a sophomore. He's a captain this year and a big part of the team."
One of Gunaca's favorite memories of playing football was when they beat Washburn High School two times in one season. He hopes that they can have more success during the rest of the season. He also wants to get revenge on Washburn in the playoffs this year, and he is willing to do whatever it takes to reach that goal.