A new grading scale was implemented in Southwest this year. The new grading system changes the scales making 86% an A, and below 25% failing.
 "I feel like it was unnecessary," Sumiko Webb ('24) said.
Standards-based grading helps teachers better grasp what students are learning by measuring students against specific standards. Standardized grading gives students a better chance of getting a better grade. Most students at Southwest have experienced standards-based grading because up until 10th grade, students are graded by standards-based grading. For 11th and 12th grade, students would have dealt with 60% and above passing, with 40% and below failing. 
"I'm curious as to why we switched," Eleanor Watts ('24) said.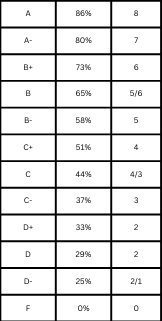 The letter grades compared to percentages, and the IB one to eight grading scale is in twelve increments. An eight on the IB scale means the student understands and can explain the point, while a five is understanding. 
As well as the new percentages an 80/20 system has been installed, this basically means summative assignments like tests are worth 80% of a student's grade and any practice like homework is worth 20% of a student's grade. 
Christina Jensen, English teacher, said, "I philosophically disagree with the summative category being weighed at 80 because it's inequitable and unrealistic." Jensen is a 9th-grade English teacher who is already familiar with standards-based grading.