Southwest vs Washburn Boys Basketball
On January 23, the Southwest boys basketball team faced the Washburn Millers for their first match-up of the season.  Before the game even began, you could feel the tension between the rival teams inside the gym. Varsity coach Keenan Shelton was feeling confident before the game, saying: "My guys are loose. It's really up to them; how they go out and execute. We're prepared." 
Southwest started the game, winning the jump ball, and setting the tone for the night. The first half was very back and forth, with Southwest leading by an average of four points. Despite turnovers and missed shots, the Lakers held strong and were consistently able to play great defense. By the end of the first half, the Lakers were ahead 27-16, with Christo Polydorou and Camden Holter scoring a combined total of 18. As both teams headed to the locker rooms, the student sections traded cheers back and forth, hotly anticipating the second half of the game. 
The Millers came out strong, edging their way back into it, but the Lakers stayed competitive and held onto the lead. With seven minutes left on the clock, it was a one point game with the Lakers in the lead. For the next couple of minutes, there were turnovers, missed shots, big defensive stances, and by the time five minutes hit the clock, the Millers had tied it up at 45-45. On the next Miller offensive possession, they hit a three pointer, erupting a roar throughout the gym and bringing everyone to their feet. From here on out, the lead changed back and forth until the game was tied at 52-52, with 25 seconds remaining. Coach Shelton of the Lakers called a timeout to draw up a potentially winning play. All the Lakers were set in their position, but they gave up a costly turnover, and the Millers then called a timeout. The suspense of what was about to take place was felt by everyone inside the gym. Out of the timeout, the Millers were not able to put up a decent shot, sending the game to overtime.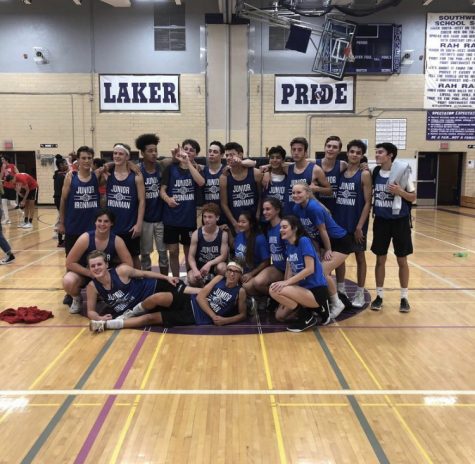 With four minutes added to the clock for overtime, the next couple minutes became a defensive struggle. At the two minute mark, tied game at 54-54, the Lakers fouled and sent the Millers to the freethrow line for two shots. The Laker student section began making as much noise as possible, banging on the walls and stomping on the bleaches so that the sound of the ball dropping was inaudible. The Millers missed both shots. 
With five seconds left in the game, the Millers call a timeout. Washburn had the ball at halfcourt, with only enough time for a catch and shoot. They get it inbounds, the shot goes up, and as the buzzer rings, the ball goes in. Washburn fans rush the court, as the Lakers stand in disbelief after witnessing such an intense game.
The next boys basketball game against Washburn is on February 24th at 7:00 P.M.
 at Washburn. In a post-game interview with captain Marcus Mattox, he says: "I think we should easily beat them by 15 or more points." Next time, the Lakers will come out on top.