Southwest Alpine Skiing Takes on State
On March 10th the Minnesota State High School Alpine Championships were held in Biwabik, and 4 of the 12 sections Southwest alpine skiers qualified for state: Meghan Abel, Elli George, Erik Arnold, and Charlie Smith. The sections were split into 2 separate races due to COVID, so the top ten individuals and top 2 teams of both section races made it to the state championship. 
At state, Meghan Abel placed 51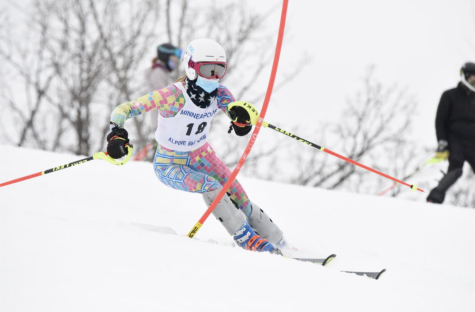 st and Elli George placed 70th. Meghan said that state was more about ending the season on a high note than winning: "Thinking about the state tournament, for me, and I think for a lot of us it was more about just going up and having fun than actually competing."
 The state meet had COVID restrictions like mask mandates, only one coach per team, and only one spectator per athlete, but for the most part it was similar to years before. Meghan said that it was just exciting to have state and sections this year, because at the start of the year, they had no idea what it would be like, "At the beginning of the season we didn't know if we would have a season let alone a sections or state meet, so it's kind of a miracle to just compete at sections and state." The team also got to go up a day before to practice on the hill and spend some time together. It was a fun state championship and a good end to the Southwest Alpine skiing season.