A History of Southwest
Southwest Senior High was first opened in 1940, drawing in 841 students from Edina, Richfield, and Minneapolis just in their first year. Although it started out as a school for just grades 9-12, Southwest included grades seven and eight from 1968 until 1982, during the reorganization of Minneapolis schools. Throughout this time Southwest was renovated twice, once in 1956, and again in 1968, to convert the school into a Junior High. Recently, in 2016, the school added an additional twenty classrooms, air conditioning, and more, which allowed space for 450 more students. In 1987, Southwest integrated the International Baccalaureate Programme into its curriculum, which is still the curriculum that is used in many of Southwest's major classes. As many people know, before Southwest students were called the Lakers, they were known as the Indians. However, in 1987, the student body of Southwest voted to become the Lakers instead, and Southwest became one of the first schools in the country to stop using a Native American as a mascot. All of these changes have led to the wonderful school we have today.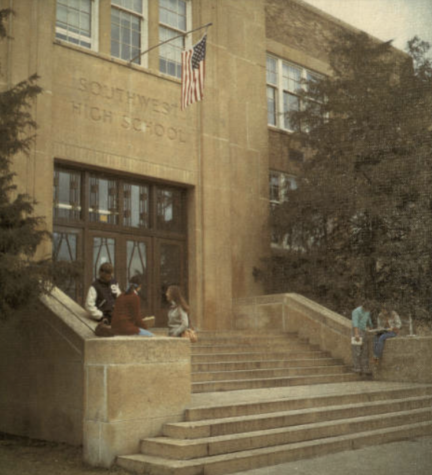 One notable achievement in Southwest's past is its ice hockey team and their victory over Edina in 1970. In January of 1969, Southwest defeated Edina High School's hockey team with a score of 3-1, Edina's only loss of the season. Unfortunately, they were forced to yield in the consolation final, allowing Edina to emerge victorious in the state tournament. However, Southwest's chance at victory came only a year later, when, for the first time in three years, Edina and Southwest did not play a game outside of their respective conferences. John Taft, Southwest's defenseman at the time, and later a player for the Detroit Red Wings said, "The rumor was that Edina opted not to play us that year because we were supposed to be down." It's possible Taft was right, as in the two previous years Southwest had won both games played against Edina. However, in 1970, both teams entered the state championship undefeated. The game was tight, and with both sides in it to win it, the score was 0-0. It was in overtime that the Southwest defenseman, Bob Lundeen, hit the puck past Edina goalie Larry Thayer. With that, Southwest had become the first, and only, city public school to win a state hockey championship with a final score of 1-0.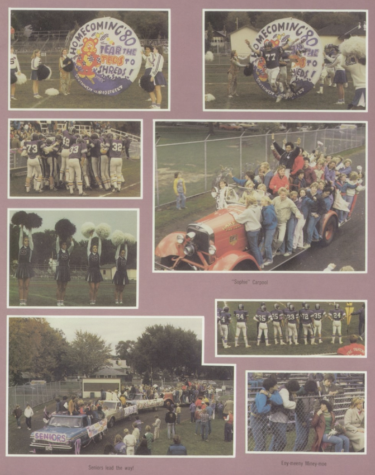 And now, to take a real look into the Southwest of the past, we've interviewed Lisa and Christopher McHugh, both of whom attended Southwest in their teenage years. Graduating classes of '93 and '86 respectively, Lisa and Chris remember the school dances as some of their best memories. "I always had friends from other schools come to my dances," Lisa says. "Southwest dances were, like, notorious back in the day." Another huge part of the Southwest culture was the pep rallies, football games, the painting of the rocks, and many other Southwest spirit events. (To the left is an old yearbook page showcasing the thrill of Southwest spirit.)
The school spirit wasn't the only thing the McHughs loved about Southwest. "I loved Larry Luck, coach of the math team," Chris said, describing one of his previous teachers. "And you can't forget Mr. Vegan!" Lisa added. "All the kids loved him." However, despite all the great, fun parts of the past Southwest, both Lisa and Chris remember the school food as one of the lesser excitements of their youth. "It was probably the best food you'll ever have," Chris joked. "Terrible pizza, terrible burgers, a terrible salad bar, and Ho-Hos. Ho-Hos were the saving grace, for sure." 
To get a feel for the atmosphere of the Southwest building, Chris explained that Southwest was split into two buildings connected by a long narrow hallway called 'the Link'. This long hallway served as a place where many students gathered with friends during and after the school day. (To the right is an image of the Link, connecting the two buildings of Southwest.)
Unfortunately, the building no longer has the Link after reconstruction in 2016. During their time at Southwest, Lisa and Chris expressed their excitement at the many opportunities in clubs and extracurriculars such as Math Team, tennis, badminton, and the Mosaic (a club for literary arts). Unfortunately, a few of their favorite classes have since been cut from our curriculum, as we no longer have the opportunity to take screen printing, photography, or woodshop. All in all, Chris and Lisa loved their time being Lakers and all of the friends and memories that they made throughout their years at Southwest. 
Through research on the history of our school, we've found Southwest has been a leader in sports, academics, and school spirit since students first walked its halls, and has been an important part of many lives, extending even beyond the community in which it is located. Within the doors of the school, students have created memories and friendships that will stay with them for years to come. Needless to say, we are proud to be called the Lakers.
A huge thanks to our interviewees Chris and Lisa McHugh.