What Halloween candy are you?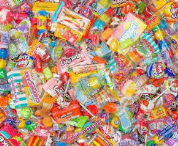 Loading...
There was an error. Please try again.
Halloween 2023 happened on a Tuesday this year but kids and families celebrated the weekend prior. Parties and events took place all through Minnesota and there was something spooktacular for everyone's interest. Many describe this year's halloweekend weekend as a memorable and exciting time. 
Tricks and Treats at Valleyfair was a popular attraction this year, it hosted many families at Valleyfair in Shakopee, MN. At this event all ages were welcome and there was a guaranteed thing for everyone's interest. Rides and activities were available through the night. They had their scariest rollercoasters operating, a large section for trick or treating, a stage for halloween themed bands, and much more. 
Another well liked event was The Dead End Haunted Hayride. This haunted hayride was located in Wyoming, MN. It happened from September 22 through October 31. This attraction starts off with a hayride through various spooky settings with real life actors and exciting props, after the hayride you are dropped off at the start of many different haunted houses, each house is themed differently to have a good scare for everyone, once you have walked through all the houses you are back at the start where there is food, drinks, a fire, and occasionally live music. This is a major hit for teens through adults. 
On Halloween night an old tradition is trick or treating, just about everyone has done it. Kids dress up in their costumes and go door to door with their parents or friends to get candy. At the end of the night they go home to gather their candy, sort it, count it, and eat it. Growing up trick or treating was a core memory for many people. 
A traditional way teens tend to celebrate is house parties on the weekend. Teens host a party either open invite or invite only. These parties tend to get out of hand but memories are definitely made and it is a great way to socialize with people from your city and school. Everyone loves house parties and everyone says it is their favorite way to celebrate.