Hot Notes Fundraiser Highlights Performing Arts Council's Work
This February, the Southwest Performing Arts Council (PAC) will host its 20th Annual Hot Notes Gala, a yearly fundraiser to support arts programs at Southwest. The Council describes it as "a much-loved, longstanding tradition that celebrates and supports the high-quality band, choir, dance, guitar, jazz, orchestra, and theatre programs".
In addition to a live auction, games, drinks, and a swing band, the event will feature student performances by many groups. This includes jazz combos and big band, dance company 3, chamber singers, IB theatre, guitar students, and the cast of Mamma Mia. There will also be a variety show. Performing arts council president Margo Farrell said the performances will showcase "the incredible talent across all of our performing arts departments" and be "high energy and lively". Over 100 students are expected to participate.
The gala is the largest fundraiser of the year for the performing arts council and the important work they do. The Navigator spoke with several performing arts teachers about how the PAC supports their classroom. Southwest instrumental music director Reid Wixson, choir and vocal music director Bryan Fisher, dance director Erin Brown, and Farrell commented on the importance of the fundraiser, the council's work, and the lack of funding for the arts.
The performing arts council is "a committed group of parent advocates who partner with the performing arts faculty". Their mission is to "champion excellence in the performing arts education at Southwest High School". And that excellence would be difficult to achieve, if not for their fundraising efforts. "It's hard to imagine how this classroom would function without them", Wixson said. "Everything, everything, everything" in his classroom is from the PAC, "all the instruments, all the music, all the accessories".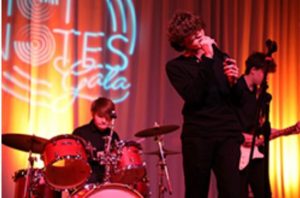 The same is true for all the performing arts departments. In the choir room, the PAC "provides all the money we need to run our programs", Fisher said. "Our chairs, our pianos, our instruments, our printed music". "The budget we get for choir does not give us enough to buy one piece of music". And for dance, Brown said the PAC provides all of the "costuming and light design for our big shows. Without this financial support students would be doing everything themselves". According to Farrell, "Our teacher's salaries are the only part of the performing arts program funded by the school district. Everything else is paid for by donations".
Beyond the basics, the council also provides special experiences for students. Brown highlighted some recent guest artists the dance department has been able to bring in who have helped choreograph dances for their concerts. This included a West African dancer and drummer who taught them dances from Ghana. "Without the PAC, the dance department could not bring in any guest artists from the Minneapolis community".
Southwest performing arts programs have seen a significant drop in enrollment over the past three years, from 55% to 25%. Farrell cited years of virtual classes, boundary changes by the CDD, and most significantly, the prior administration's shift from a 7 period to 6 period day. Through Hot Notes and other events, they hope to promote the programs available, and their benefits, to Southwest students. Farrell said "The performing arts encourage students to explore their emotions, expand their imagination, and express themselves to develop their own unique voice." She added, "Like sports, participation in [the performing arts] enables students to learn valuable life skills."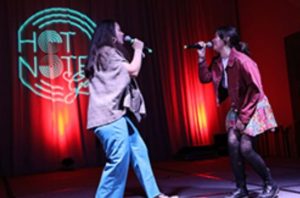 As for the event itself, Fisher spoke to how unique it is. "It's pretty awesome. When I heard about it coming here, I had never heard of anything like this before". He added, "It's a chance to have a party, instead of taking ourselves way too seriously. It's a fun thing, instead of just work". "There's always fundraisers but [this is] something that can fund everything we need for all five departments".
Hot Notes is a fantastic opportunity to support Southwest performing arts. It will take place at St. Mary's Greek Orthodox Church on February 11th and will run from 6:30-10:30 PM. Tickets can be found at this link: https://e.givesmart.com/events/tUS/. If you can't make it, you can still register as a supporter and donate.