2019 Southwest Football Season
This year's Southwest High School varsity football team had a full roster, with 39 players. The team's national ranking has moved to 171, and they finished well in the conference.
Marcus Mattox, junior, #1, played wide receiver and cornerback this season. "Playing the sport just makes me really happy," Mattox said. There are a lot of great guys on the team and that the support he gets from his teammates, as well as his coaches, keeps him going. He especially looks up to senior Tramone Nevels, who also played cornerback. They push each other which encourages Marcus to work harder in practice and in games.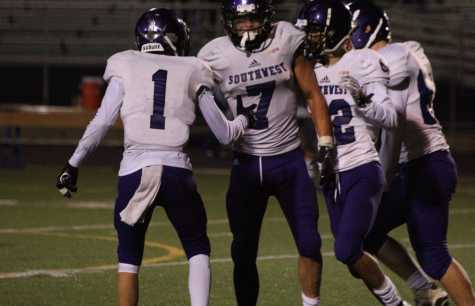 Nick Flaskamp, junior, #11, played linebacker and running back. "There's no other sport in the world like it," Flaskamp said. He also says he just likes that he can take out his anger. He looks up to senior, Nate Mertes, who played linebacker. He became close to him when Nick was in eighth grade when they ran on the same track team. Nick said he influenced him a lot and shaped him to be the player he is now, as well as help guide him through high school. Nick learned from this season that, "the Lakers can ball," and that good chemistry with teammates can make all the difference during the game.
During the off season Marcus will play basketball for Southwest's varsity team, and he also plans to join track this year. Nick will continue on the track team, as well as the wrestling team. They will be preparing for next year's football season, as well as coaching the junior powderpuff team and securing the win.
Next season, the team will feel the loss of all the seniors leaving for college. However, they have high hopes and don't expect anything short of "taking the dub." They plan to pick up exactly where they left off at the end of this season, and start strong. They really improved from last season, and they want to keep the momentum going. 
They both feel that this season was a tremendous improvement from last, but they did make some mistakes that they don't plan to make again. One being underestimating an opponent. They said they were both guilty of underestimating Washburn and almost lost because of it. However, they did push back and ended up winning.